Marvel and Rock Legends KISS Join Forces on new co-branded collection, KISS x Marvel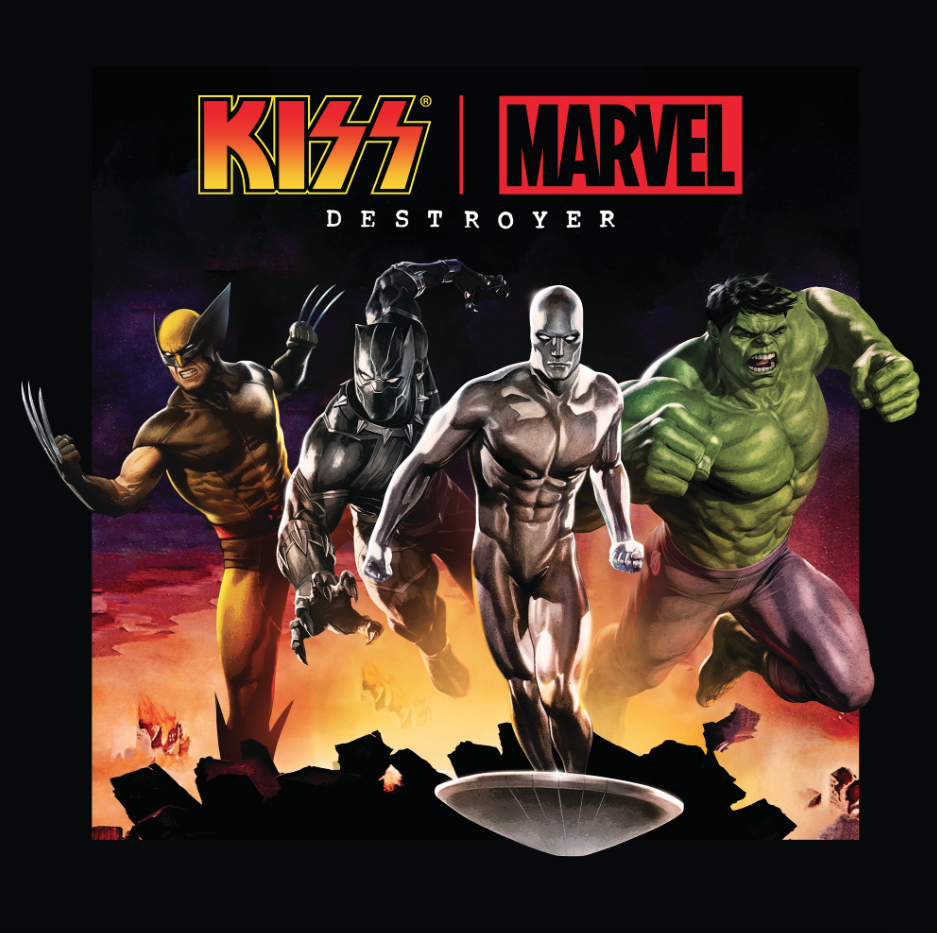 New KISS x Marvel apparel from Fifth Sun, accessories and drinkware from Bioworld, home goods from Jay Franco, and posters from Trends International to be released as part of the exciting co-brand
LOS ANGELES — Rock and Roll Hall of Famers, KISS, and entertainment powerhouse Marvel have collaborated on a unique collection of KISS x Marvel merchandise. Fans of both can expect a wide assortment of apparel, accessories, and home goods that capture iconic Marvel style and KISS attitude, with print on demand apparel by Fifth Sun launching January 2020 and a wider range of products to follow.  KISS's global brand licensing agent, Epic Rights, recognizes that this unique co-brand is the perfect way to combine the larger-than-life element of the rock band, with the heroics and imagination of Marvel characters and storytelling.
As one of the best-selling bands of all time, KISS continues to inspire new generations of fans every day. From the incredible makeup, costumes, and unforgettable songs to the band's epic stage antics and pyrotechnics, KISS is an unforgettable stage presence and indisputable rock icon to music fans. The energetic KISS members embody the same bold, charismatic, and captivating qualities that make Marvel Super Heroes popular with audiences everywhere.
The unique collaboration between KISS and Marvel originated in the 1970s after the rock band starred in popular comics like Howard the Duck #12 and the Marvel Comics Super Special series. The widely successful KISS "End of the Road" farewell tour is encouraging fans to reimagine their favorite KISS memories and take advantage of the exclusive KISS x Marvel product assortment.
Paul Stanley and Gene Simmons of KISS jointly stated, "A privilege and an honor to follow up our debut 1978 Marvel relationship, KISS Comics, where we met Spider-Man, Dr. Doom and the Fantastic Four with this new partnership. This is as cool as it gets."
"The strength and power of the Marvel Universe has inspired musicians, artists, and creative talent for more than 80 years," added Paul Gitter, SVP, Marvel Licensing. "Our KISS x Marvel collaboration continues the legacy of working with these amazing rock and roll hall of famers, and we are beyond excited to bring fans a loud and proud merchandise collection that screams Marvel style, with rock and roll attitude."
Lisa Streff, EVP of Global Licensing at Epic Rights, stated "We are thrilled to bring these two legendary brands with such a rich history together for this one-of-a-kind collaboration and feel confident that this will generate strong retail success. The KISS x Marvel co-brand is sure to have something for fans of all ages who love these evergreen giants."
About KISS
KISS remains one of the most influential bands in the history of rock and roll after 45 years.  KISS has earned more Gold Album Record Awards than any American band in the history of The Recording Industry Association of America's (RIAA) Gold and Platinum certifications with 26 KISS albums and four solo albums released simultaneously—a feat never before achieved by any band. To date, KISS has released 44 albums, with 14 achieving Platinum status and three albums reaching multi-platinum.  KISS has sold more than 100 million albums worldwide and their legacy continues to grow their fan base, generation after generation.
KISS continues to build on the momentum generated by sold out tour dates, incredible media coverage and consistently phenomenal concert performances on their End of the Road world tour, which continues into 2021.       For more information on the band's activities and events, visit www.KissOnline.com.
About Marvel Entertainment
Marvel Entertainment, LLC, a wholly-owned subsidiary of The Walt Disney Company, is one of the world's most prominent character-based entertainment companies, built on a proven library of more than 8,000 characters featured in a variety of media over eighty years. Marvel utilizes its character franchises in entertainment, licensing, publishing, games, and digital media. For more information visit marvel.com. © 2019 MARVEL
About Epic Rights:
Epic Rights is an industry leading branding, merchandising, and artist's services company representing a diverse roster of iconic music artists and brands. Epic Rights offers a broad range of services, including retail licensing, tour merchandising, D2C ecommerce, VIP/fan experiences, merch bundles, and fan engagement opportunities. Epic Rights is headquartered in West Hollywood California. For more information, visit: www.epicrights.com.