Yoshiki, Gene Simmons Unite Via Shared Love of Rock, 'We Are X' Film, Hello Kitty Dolls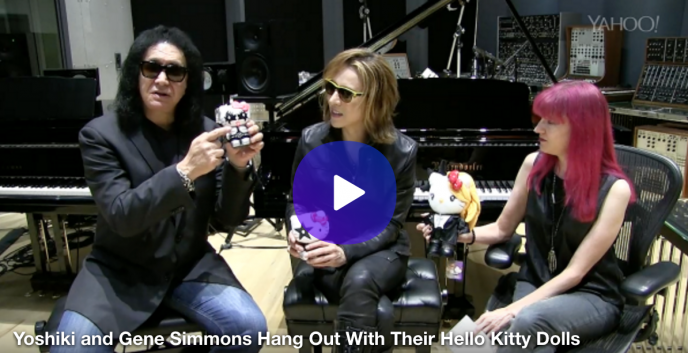 Sitting side by side at X Japan founder Yoshiki Hayashi's Los Angeles recording studio to discuss the new X Japan rockumentary We Are X, Yoshiki and KISS bassist/mouthpiece Gene Simmons don't seem to have much in common. Yoshiki is sweet, serious, and slight; Gene is loud, brash, and 6'2" even sans his signature platform-footed dragon boots. But the two are in many ways kindred spirits, united by their unwavering belief in the power of rock 'n' roll. They're also two of the only rock stars to ever be immortalized by Sanrio as Hello Kitty dolls — Yoshiki's doll even has a name, Yoshikitty — which says a great deal about Yoshiki's international superstar status, even if the classically trained Japanese rocker still isn't a KISS-level household name in the States.
"It's amazing. Miracles can happen," grins Yoshiki, seated beside Simmons and a cluster of Hello Kitty figurines at one of his deluxe studio's many grand pianos. "I'm sitting next to Gene Simmons, and he's talking about my band. It's like, that's unbelievable."
Simmons first became a fan of X Japan when Yoshiki arranged and wrote a symphony based on KISS's "Black Diamond," which became the majestic closing track on KISS's 1994 all-star tribute album, Kiss My Ass. "It was so big and so impressive that I literally couldn't figure out where to stick it in the track[listing]," Simmons says. "After Garth Brooks? No, that's not going to work. We had to stick it on the end, because if you start off with that, everything else will look like a popcorn fart… It had to have its own breath, because when it ends, it feels like…'and then there was light… on the seventh day…' I mean, it felt Biblical."
For Yoshiki, getting to pay tribute to KISS was a career highlight — in an amazing career that has included recording with Beatles producer Sir George Martin, pioneering Japan's glam-rock "visual kei" movement, composing a classical song for the 10th anniversary of Emperor Akihito's enthronement, performing a live duet with a hologram of himself, creating the official Hello Kitty theme song, and selling more than 30 million records with his band. Why? Because KISS was the band that introduced him to rock 'n' roll in the first place.
"I was only listening to classical music," Yoshiki recalls of his boyhood. "I started playing piano when I was 4 years old — just classical piano — and my father passed away when I was 10 years old. My father used to buy me classical albums, on vinyl of course. Then, after my father passed away, I decided to go to the record shop. Then, usually I buy like Schubert, Mozart, Chopin, or something like that. Then, I just passed one section and there's the rock 'n' roll section. I found the KISS — I think it was the single 'Love Gun' — and I was like, 'What is this?'" Later, Yoshiki asked his mother to take him and his 5-year-old brother to a KISS concert at Tokyo's famous Budokan arena. "That was my first KISS experience, as well as my first rock experience. It changed my life."
Simmons makes a brief but memorable cameo in We Are X, in U.S. theaters Oct. 21, rightfully griping about X Japan's lack of Western success due to the language barrier. "The truth is, for many bands around the world that are enormous in their own countries and do very good music, that's something you should be listening to," Simmons tells Yahoo Music. "There are a lot of very good bands that just don't sing in English. Look — when you go to see opera, aren't they singing in German or Italian? You don't understand what the words are, but you're amazed by the music. I understand English is the predominant form for rock and blues and classical and country, rap and jazz and all that, because it was invented in America. OK. But get over yourselves. There's some amazing musicians and groups and personalities."
However, X Japan's failure to become U.S. rock stars was always the least of the band's worries. We Are X chronicles multiple tragedies that befell them over the years, including the fragile Yoshiki's health issues, a breakup after frontman Toshi was "brainwashed" by a cult and denounced X Japan's music, and the suicides of two other band members. Most tragic of all: another suicide, that of Yoshiki's father, when Yoshiki was just a little boy.